Crash Test Cuisine ~ Savoury Cookies made by Legendes Gourmandes
By Brook Lowry Rivet on Wednesday, December 26 2012, 14:34 - Crash Test Cuisine - Permalink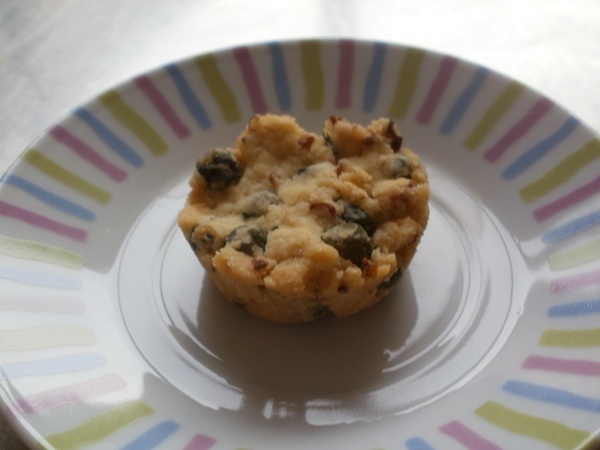 I hope you had a wonderful Christmas. It's not my favorite holiday (that would be Easter) but it does feature time with friends, parties, and permission to enjoy sparkling wines and chocolate. If you're like me, you are feeling lazy yet have lots of entertaining, some of it casual drop in anytime! I like to have some emergency appetizers and treats on hand. Not everyone likes sweets, so when I spotted a pretty mix-in-a-jar of savoury vegetable cookies at the new Lux E.Leclerc, made by Legendes Gourmandes, I couldn't resist trying. The ingredients list showed dried onion, garlic, peas and carrots. The jar looked festive.
This calls for crash test cuisine! The instructions on the back of the jar consisted of pictures that would work for a Chinese toddler, but I had to get out my granny glasses to read them. It looked to me like this: Pour mix into a bowl, add 2 Tbsp of olive oil, 1/4 cup butter and 1 egg. Stir with a spoon, form into little balls, bake on a cookie sheet. Easy Peasy as they say in Yorkshire. The dough was very pretty, buttery yellow with flakes of orange carrots and green pea dots.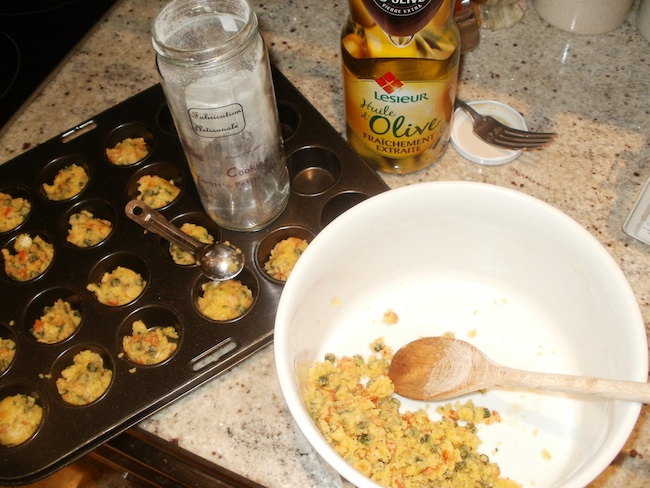 Instead of dropping by teaspoonfuls on the cookie sheet, I decided to make something more biscuit-shaped. I patted each dough ball into the bottom half of an ungreased mini-muffins tin. I baked them 12 minutes at 350F (180C). I let them cool and they dropped right out of the muffin tins, no problem. The taste was wonderful, not too salty with the garlic and onion providing a pleasant foil to the sweet carrot and pea bits. I found the flavor a little too bland, but that is in keeping with French tastes. I suppose I could add a little dill, chives or rosemary to jazz them up if I liked. The consistency was tender and crumbly, like shortbread, contrasting with the chewiness of the carrot bits and the crunchy resistance of the peas. In fact the peas were almost too crunchy for my taste, close to a borderline density of "will this crack my tooth?" that was slightly alarming, considering my dental history.
Overall, I rate these savoury cookies 10 out of 10 for appetizing appearance, 10 for ease and speed to make and 8 for taste and texture.