Avant-garde Digital Cheesecake Brownies
By Brook Lowry Rivet on Thursday, March 7 2013, 09:14 - Permalink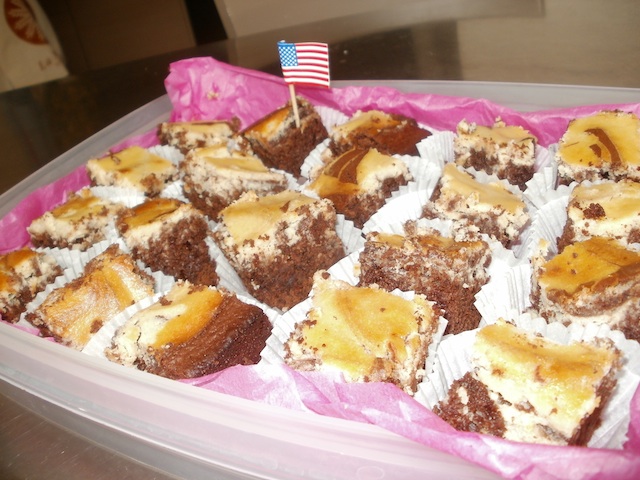 Last Thursday I attended a digital marketing seminar right here in Chalon, at Nicéphore Cité. This is Chalon's new image & sound innovation center. It's located in a converted sugar refinery and the architects have done a brilliant job saving the beautiful buildings from a historical industrial site. The Nicephore center hosts conferences, offers training sessions and houses a business incubator with co-working office space for freelancers. They also offer services in video and sound recording and rent out studio space. Because Chalon is the birthplace of photography and Nicephore Niepce, it's particulary fitting to use this space for image technology. When Kodak-Pathé closed down in 2006 and laid off 3000 workers, the local government has sought to encourage all manner of start-ups and new enterprises.
Thursday's conference topic was "Defining Communication Strategy Using Digital Technology Tools", and I was amazed by the cutting edge stuff I heard. We discussed Responsive Web Design, QR+ codes, trends in mobile device use in Europe and how to leverage social media sites. One of the attendees had just returned from the Mobile World Congress in Barcelona and there was a brief off-topic discussion about Phablettes. When I watch the French evening news, I sometimes get the feeling some French citizens are still living in an Emile Zola novel, especially when I see demonstrating workers burning tires and waving red flags with a hammer and sickle. Wait a minute. Apparently, the French communist party recently abandoned this symbol because it it's old fashioned and "irrelevant"? Another French paradox: France continues to pursue ultra modernity while clinging to tradition…this is the country that invented avant-garde. Future trends and past traditions co-exist.
French people invariably love cheesecake and brownies, so it's a sure bet they'll like this recipe. I love the combination of oranges and chocolate, which somehow brings up a vision of Cortez returning from Mexico with a bag of chocolate nibs in an historically unlikely burlap bag stamped "Venezuela". In my imagination he presents the bag to Queen Isabella of Portugal in a courtyard full of orange trees. This is complete fiction of course, as apparently Isabella would have preferred a chest full of emeralds.
Caramel is my very favorite flavor, and it's delicious with both oranges and chocolate. The caramel flavor here is subtle. It's from dark corn syrup in the brownies and dark brown sugar (muscovado if you can get it) in the cheesecake swirl topping. This brownie recipe is extra-dark chocolate flavored, but if you don't care for bitter chocolate, substitute flour for the 1/3 cup cocoa powder and the brownies will be less dark and bitter. To serve at a fancy dinner, just add a couple scoops of caramel ice cream or vanilla ice cream and a dollop of caramel sauce with fresh orange slices as garnish. Go ahead, innovate.

Orange caramel cheesecake brownies
Ingredients for the brownies:
2 1/4 cups sugar (OR 2 cups sugar and 1/4 cup dark corn syrup)
1/4 cup water
11 Tbsp (150 gr) butter
5 oz (150 gr) dark chocolate (or unsweetened chocolate), in pieces
3 eggs
1 1/3 cup flour
1/3 cup cocao powder
1/2 tsp salt
1/2 tsp baking soda
Ingredients for the cheesecake swirl topping:
300 gr (10 oz) cream cheese
100 gr (1/3 cup) sugar, part dark brown sugar
1 tsp vanilla exract
1/2 tsp grated orange zest
1 egg
1 Tbsp flour
Instructions
Preheat oven to 350 F.
Mix flour, cocoa powder, salt and baking soda together in a small bowl with a whisk. Use a flour sifter or a sieve if the cocoa powder is lumpy. Reserve.
Place sugar, optional syrup, water and butter in a large microwaveable mixing bowl. Microwave on high for 2 minutes, stopping to stir a couple times.
Pour the chocolate pieces over the hot mixture and cover, let sit 5 minutes.
Stir until smooth and allow to cool for ten minutes.
Make the cheesecake topping: mix sugar, vanilla and cream cheese with an electric mixer on medium speed for 3 -4 minutes until smooth. Add the flour and mix again. Add the egg and mix until just smooth, do not overbeat.
Add eggs and beat with an electric mixer for 1 minute. Add half the flour and mix 1 minute more.
Add the rest of the flour mixture, mix until smooth.
Line a 9 x 13 or 14 " baking pan with parchment paper and rub the paper with butter or oil.
Pour the brownie batter into the prepared pan and spread.
Dollop the cheesecake topping over the entire surface of the brownie batter. With a wide knife of thin spatula, swirl the batters without mixing too much.
Bake 25 minutes. The brownies should be set but very moist. Do not overbake or they will be dry instead of chewy.