RADISHES - Spring is Here!
By Brook Lowry Rivet on Wednesday, April 3 2013, 16:36 - Permalink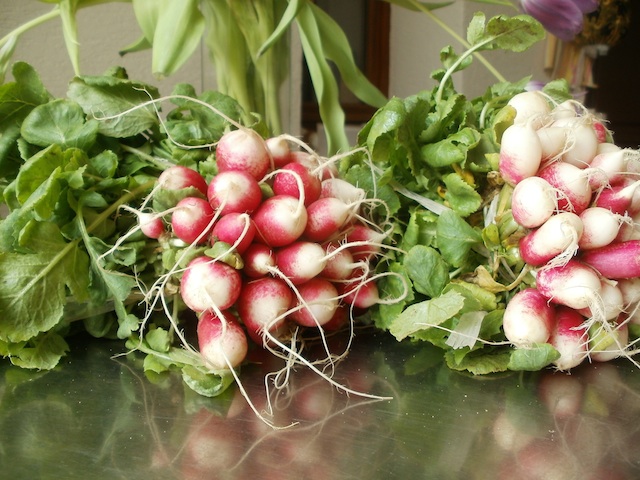 One of the biggest adjustments for me about living in France was choosing the foods I eat according to season. Growing up in Wisconsin, there just wasn't a lot of difference between summer or winter - the grocery store had the same stuff year round, except for maybe watermelon and corn on the cob. Just about everything in the produce department was shipped from California or Mexico year round.
Here in France I can buy potatoes, leeks, carrots, broccoli and several varieties of lettuce and greens year round from local vegetable growers at my farmer's market. In winter there is a nice selection of squash, cabbages, spinach, fennel, celery and beets. In full summer they grow zucchini, peppers, eggplant and tomatoes. It's like California without almonds or surfers.
April means radishes, which begin to appear when the snowdrops pop up and folks start hawking bouquets of yellow daffodils.
The French like to serve radishes with a dish of butter and a glass of white wine. You grab a radish, plonk a chunk of butter on it, bite and chase with wine.
I like to leave a bit of the green stem on the radish for color contrast and to use as a handle.
The day I bought my bunch of radishes, I sorted and cleaned the tops to remove sand and make a 'potage' - pureed soup.

Creamy Potato and Radish Greens Soup
1 medium onion, diced
1 Tbsp butter
2 floury potatoes, peeled
3 cups chicken or vegetable stock
1 bay leaf
1/2 tsp sea salt
1/4 tsp freshly ground black pepper
1 bunch of radish leaves, separated, sorted and washed to remove grit
Saute the onion in the butter for five minutes on low heat. Add the stock, potatoes and seasonings. Bring to boil and simmer for 30 minutes. Add the radish leaves and boil for 15 minutes. Add a little more water if necessary and puree or run through a food mill. Serve hot with a dollop of creme fraiche.