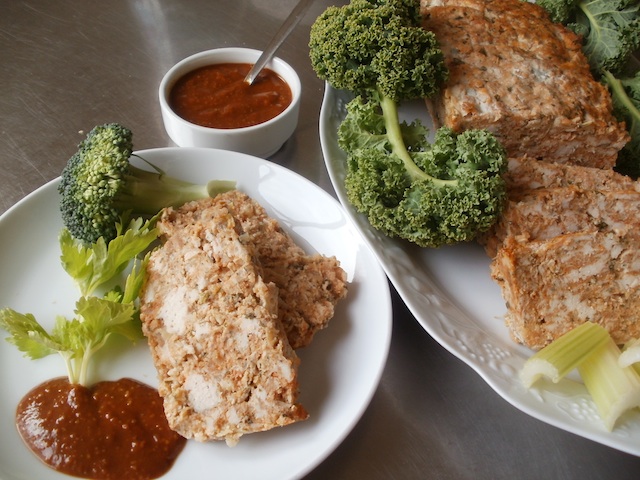 It's not considered unfortunate timing here in France to release a major motion picture about the French sport horse Jappeloup in the midst of the European beef-tainted-with-horsemeat scandal. In France Jappeloup is as famous as Seabiscuit or Secretariat. Guillaume Canet, the lead actor and its screenwriter, is running the tv interview circuit this week, but nobody is asking him about horsemeat. Instead they are talking about how Canet's life is similar to that of Pierre Durand, the 1988 Show Jumping Olympic gold medalist who rode Jappeloup to glory in Seoul. Canet was 15 when Durand and Jappeloup grabbed a surprise win, after Durand almost gave up his career to become a lawyer after an accident at age 18. Canet was a show jumper himself at the time, and his parents owned a horse breeding farm. At the age of 18, Canet took a bad fall, but unlike Durand, he started acting and never looked back. Canet had not been on a horse for 20 years, and the film spurred him to get back in the saddle.
Horsemeat has been eaten for centuries in Europe. Despite France and Belgium being cited most often as countries where horsemeat is eaten, the largest single consumer of horsemeat in Europe is Italy. Horsemeat is not generally consumed in the USA or the UK, but that doesn't prevent us from sending our unwanted horses over the border to foreign slaughterhouses. For the first time since 2007, the USDA is processing an application for licensure and inspection of a slaughterhouse for horses in New Mexico. If approved, some of the over 100,000 American horses currently shipped to Mexico or Canada for slaughter could be processed on domestic soil. Animal rights activists including the Humane Society are up in arms, and Temple Grandin, famed animal science professor, activist and livestock consultant, basically came out against horse slaughter in 2011 by calling for requirements such as 24/7 webcam monitoring, that would be unacceptable to slaughterhouse management. PETA also opposes both export and horse slaughter, advocating instead humane euthanasia carried out locally for unwanted horses.
Meanwhile, the Barbara Streisand Effect seems to be kicking in as horsemeat purveyors in France, the UK and even Canada have reported increased business by as much as 15% since the scandal started. People are curious to try something that everyone is talking about. When I first came to France in the 1980's there were several horsemeat butchers on street corner shops - horsemeat is required to be sold by specialized butchers to avoid confusion. Those shops have all but disappeared, and horsemeat is more commonly sold either in supermarket or from mobile butcher trucks in the farmers' market. Today horsemeat represents just 1% of total meat consumption in France. According to the French National Stud, 24,000 horses were slaughtered in 2004 in France. This dropped to 16,000 in 2011. While there is a downward trend in consumption, French production still does not meet demand, and France imported nearly 27,000 tons of horsemeat in 2004, mostly from North and South America. The cost of horsemeat and beef are nearly identical and as the price of beef goes up, so does the price of horsemeat.
At Chalon's Friday farmer market there is a horsemeat butcher truck parked near my vegetable sellers. He sells cuts of horse, donkey and foal and there is always a long line of customers. The prices are within a euro per kilo of beef. (update…a week later I checked a gain and the price of horse had fallen, perhaps it depends on racetrack results?) Last Friday several beef butchers were running specials and beef was cheaper than horse. Horsemeat has a reputation in France of being healthier and more easily digestible than beef. Some people claim it tastes better. It has lower fat and higher amounts of good cholestrol and supposedly more iron. In France it is recommended for anemic or frail people.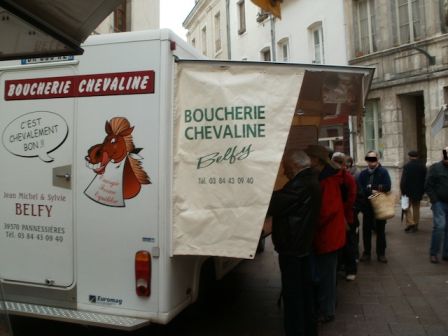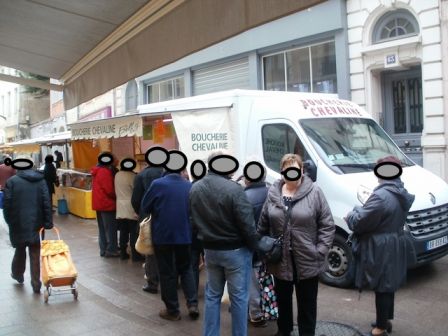 Among my French friends and acquaintances, nearly everyone agrees the scandal is exaggerated, since nobody was sickened or killed. A few of my horse-loving friends are positively horrified they may have accidentally eaten horsemeat in frozen lasagna or canned ravioli. For most people however, the scandal is about whether to trust food labeling and how we can improve supply chain traceabiility for meats. The scandal has mostly hurt frozen prepared foods, with sales dropping 30% in France. In a French TV news report, consumers were interviewed in supermarkets saying they didn't really care what kind of meat was in the lasagna, but wanted accurate labeling since fraudulent ingredients implies illegal practices throughout the processing chain. This lack of confidence in ready to eat meals has consumers preferring to buy fresh meat when they can, and butchers are so far enjoying better business.
The scandal has also made two things known: 1) horses as well as other animals are being transported fraudulently without proper paperwork across borders and slaughtered by people who care only about profit, and nothing for human, let alone animal welfare. 2) Animals without proper paperwork could be unfit for consumption. For example, sport horses are commonly administered phenylbutazone which can be harmful to humans. This drug is carcinogenic for humans and can trigger a aplastic anemia in high doses. In January French authorities intercepted six horse carcasses tainted with "bute" that had been imported from the UK to France with inaccurate paperwork. In the EU horses are supposed to be radio-chipped and have an equine passport in order to enter the food chain, but the system is poorly administered.
I ate a horse steak in 1987, when my French husband picked one up at the corner horsemeat shop for dinner - it was Monday and the beef butcher was closed. He "forgot" to tell me before we ate, but gave up the goods when I commented I didn't like my steak because it tasted "gamey". I recall being mildly annoyed at him because I hadn't been informed what I was eating. My distaste for horsemeat has nothing to do with the fact that I love horses…in fact, I believe if we are eating intelligent mammals such as pigs then we don't have moral grounds to object to eating the less intelligent ruminants; horses, cows and sheep are all about the same for me. Tender foal filets probably are tastier than veal, so I might be willing to try, but I just don't care for the bloody tasting red meat, which is also why I don't like blood sausage.. it's the taste, not the concept. I was one of those "picky eaters" as a kid.
I would be perfectly happy eating fish and and poultry for the rest of my life. I actually prefer duck to beef, and ostrich is a very good red meat. Turkey is one of my all-time favorites, and it's better than chicken for several reasons: it has less fat, higher calcium, lower sodium and is cheaper than chicken.
When choosing which meats we include in our diet, beyond the animal welfare consideration and the "yuck" factor, there are also environmental arguments to consider. A 2007 report by DEFRA-UK compared beef, pig, sheep and poultry in terms of resource use and environmental burdens. Poultry had the best score in every category. Carnegie Mellon did a similar study in 2008 to compare food miles and climate impacts of different meats. Any red meat was found to produce 150% more greenhouse gases than poultry in production and transportation. The report stated that if US households substituted poultry for meat for just one extra day per week, this would decrease greenhouse gas production more than buying local 100%. Poultry is not only a healthier choice but also greener when compared to any red meat.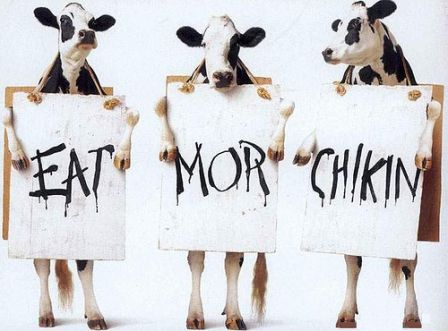 So, as the cow says in Chick-fil-A ads, EAT MORE CHIKIN? (**see note at end of post)
Ultimately, consumers need to insist on increased oversight for slaughterhouses, meat importation and traceability throughout the food processing supply chain. We as consumers should know which animal we are eating, where it was born, and what it has been doing since it was born until it entered the slaughterhouse. So write to your congressman, and EAT MORE CHIKIN.
Here's a recipe to help you boycott red meat; meatloaf, the darling of US carnivores, gets a gobbled makeover. Instead of gravy, try serving with homemade buffalo wings sauce for a spicy kick. Serve with mashed celery root and potatoes, celery sticks and a slice of blue cheese.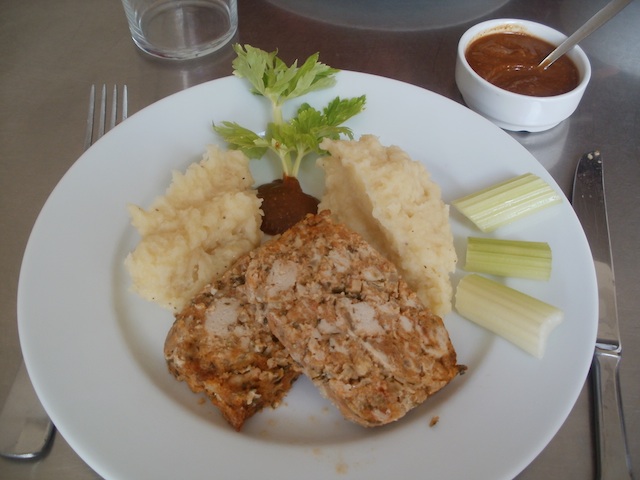 Brook's TURKEY MEATLOAF
Ingredients
2 lbs turkey breast filet
2 eggs
90 gr (3 oz) comté cheese, finely grated
1/2 cup dry bread crumbs
1/4 cup finely minced parsley
2 Tbsp olive oil
2 small onions, minced
3 stalks celery, minced
2 Tbsp tomato paste
1/2 tsp nutmeg
1/2 tsp ground pepper
1 tsp salt
1 tsp paprika
2 tsp herbes de provence
Instructions
Saute the finely minced onion in the olive oil.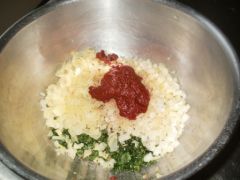 Cut the turkey in large chunkns and blend in a food processor (or meatgrinder if you have one - I don't). Process until rather fine mince. A few acorn sized pieces are okay.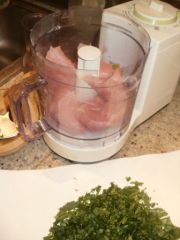 Place bread crumbs, minced celery, grated cheese, tomato paste, eggs and spices in a medium bowl.
Mix everything together. Your hands work best for this, just wash them carefully before and after.
Butter a glass loaf pan and pack the mixture firmly into that. Alternately, you can make meatballs and bake them on oiled cookie sheets.
Bake for 1 hour in a low oven 300 F 150 C.
Mashed Celery Root & Potatoes
Ingredients
1 small bulb of celery root
4 floury potatoes
2 Tbsp butter
1/2 cup warm cream or half and half
salt & pepper to taste
Instructions
Peel the celery and potatoes and cut in cubes. Boil in salted water for 20 minutes until soft. Mash or run through a food mill. Add salt & pepper, butter and cream and stir gently with a wooden spoon. Serve immediately or keep warm over a hot water bath for 1 hour maximum.
Brook's Buffalo Sauce
* Buffalo is not a bison…it was invented at the Anchor Bar in Buffalo, New York.
Ingredients
1/3 cup white wine OR cider vinegar
1 Tbsp chili powder
1 tsp paprika
1 tsp garlic powder
1/2 tsp onion powder
1 tsp hot pepper (cayenne, espelette etc)
1/4 tsp salt
2 tsp canola oil
2 tsp honey
1 Tbsp cornstarch
2 Tbsp water
Instructions
Mix the cornstarch with the water in a small saucepan. Add all the other ingredients and bring to a boil while constantly stirring.
Remove from heat and allow to cool. Add a little water if it's too thick and store in a jar, use within one month.
(** note about Chick-Fil-A: For non-American readers, Chick-fil-A is a fast food chain serving fried chicken which became famous two years ago when its CEO, a conservative Christian, took a stand against homosexuality and prompted a boycott which Sarah Palin then countered by asking Christians to "eat more chikin". Even when the company owners backpedaled last fall and announced they would cease funding anti-LGBT groups, the controversy raged on non-stop. In fact their sales have increased, according to the Barbara Streisand rule. Since their chicken tastes really good,- it's an upscale KFC with better service- there has been a reaction by pro-LGBT poultry fans such as Ted Frank who created Chicken Offset, which lets you make contributions to LGBT charities to assuage your guilt. The comedy website Funny or Die created a brilliant spoof with comedian John Goodman playing Colonel Sanders entitled "KFC loves the Gays".)