St Vincent's Cellar & Gourmet Legends in Chalon-sur-Saone
By Brook Lowry Rivet on Wednesday, December 19 2012, 14:04 - Permalink
So Monday is Christmas Eve. Wait! Don't rush off in a panic yet; My post is short today, so you can finish all that last-minute shopping. Next year, try to plan ahead, okay?
I'm going to share two of my favorite shops here in Chalon. If you're passing through Burgundy, especially on those river cruise ships like Viking, I encourage you to stroll through our lovely town. First, locate the statue of Nicephore Niepce, the inventor of photography watching benevolently over the river near where the cruise ships are tied up. You'll find the tourist office next door, where they speak English, have maps and offer good advice. Follow the river past the photography museum and past the Maison du Patrimoine--Chalon's compact, well-designed local history museum. When you reach the bridge at the top of the hill, turn left into our pedestrian district. Right away you'll be surrounded by old buildings dating from Medieval times, some of them in the process of being renovated, but a few with plaques.
At the first crossroads you can admire a beautiful wood carving entitled "Christ Falls." Speculum Vitae, The Mirror of Life is inscribed on the pedestal. This 1986 carved wood replica of the original stone statue was financed by the Rotary club and carved by local artist M. Gaillard, who also created the 'tree of life' found on the river bank to the far side of St Vincent Cathedral. The original stone "Christ Falls" was damaged by a delivery truck in 1943. It was repaired in 1986 but was too fragile to return to its niche, so it's on display inside the Cathedral. The wood replica has a quirky addition of snails at Jesus' feet, a wink to the Burgundy roots of the sculptor.
Turn right at the children's clothing store, and head up past a shoe store and café to the prettiest spot in my town, the St Vincent Cathedral Square (Place St Vincent). It's one block east of the Rue du Pont. You'll spot a small carved statue of St Vincent above the café on the southwest corner of the square, directly opposite the Cathedral. Remember that Saint Vincent is not just a Christian, he is the patron saint of winemakers, so it's fitting that he fondly watches over a square as dedicated to worship as to food and drink.
On market days--Fridays and Sundays--this square is filled with local producers of vegetables, bread, honey, eggs or cheese as well as retailers selling fruits from southern France or Spain. Cafés line the edges, and their tables and chairs are shaded by umbrellas to spill over whatever is left of the sidewalks. Every Friday or Saturday night the square buzzes with conversation as friends congregate to drink, eat and celebrate. The modern look of a concrete sphere fountain set in a square basin contrasts with terraced medieval half-timber buildings all around the square. The breathtaking height and arrogance of the 1827 neogothic Cathedral facade hovers over everything like a deity made of stone.
From a food and drink point of view, this square is a feast. Two of my favorite food shops are located here: Cellier Saint Vincent wine shop and Legendes Gourmandes gourmet food shop.
Cellier Saint Vincent is a beautiful gem of a shop, with solid glass walls lined with lovely bottles and beautiful custom made wood cabinets inside to display wines and liquors from all over the world. The owner, Pascal Laville, is as knowledgeable as his shop is pretty. He is known for his friendly manner, his wooden bow tie and his moustache. I'm sure in Pascal's shop to find something delightful within my budget. He has an amazing offering of whiskies, and he generously shares advice, even offering to write a note of instruction for how long to keep a wine or what might best accompany it.
My favorite thing to buy at Cellier St Vincent is a bottle of Joseph Cartron Vintage Creme de Cassis, a black current fruit liquor made by macerating freshly picked berries in alcohol, and then adding sugar. The liquor is intended to be drunk within a few months of opening since the alcohol content is only 15%. It makes a lovely after dinner drink, and a fine substitute for dessert. Pascal has a very nice offering of Champagnes and Cremants de Bourgogne and he has the only Beaujolais that I drink: Pierre-Marie Chermette's Domaine du Vissoux. Pascal Laville discovered the winery before it was famous, and so he can still stock this hard-to-find domaine. Don't miss this surprising item to find in a a wine shop: fruit juices! Beautiful artisan juices by Alain Millat have incomparable aromas and flavors, like fresh fruit captured in a bottle. There's something exceptional about a wine seller who sells fruit juice; an unbiased quest for taste and a passion for craftsmanship.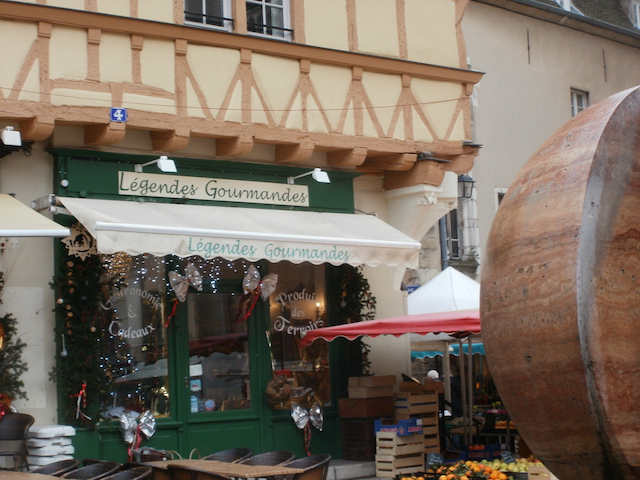 Legendes Gourmandes is not just your average gourmet food shop. I have special affection for this small enterprise run by two creative and energetic women, Emmanuelle Sotty and Christelle Lotz. They are not just retailers but manufacture some local specialties of their own invention in nearby Villefranche sur Saone. The two friends started their business as a company selling gift baskets to companies, associations and groups. Their success led them to open a shop in 2006, and you can find them next to the spherical fountain adjacent to St Vincent Cathedral.
A wonderful selection of gourmet foods from all over France, including spices, flavored salts and peppers, oils, vinegars and canned preparations like sardines and patés fill the shop with colors and flavours. Legendes Gourmandes manufactures some of their preparations, including flavored sugars, jams, syrups, sauces and imaginative kits for making risotto, rice pudding, cookies, muffins or quick breads. The store sells a selection of baskets, and I love to create my own Burgundy gift basket filled with snails, cassis sauce, Dijon spice bread, mustards and anis-seed flavored candies. Every time I visit the shop there is something new to taste.
Have a wonderful, delicious Holiday Season everyone!