Salt'n Pepper GAUDES Cookies with Foie Gras Fat
By Brook Lowry Rivet on Friday, January 18 2013, 09:10 - Permalink
Sablés aux Gaudes made with Jura-Bresse toasted cornmeal flour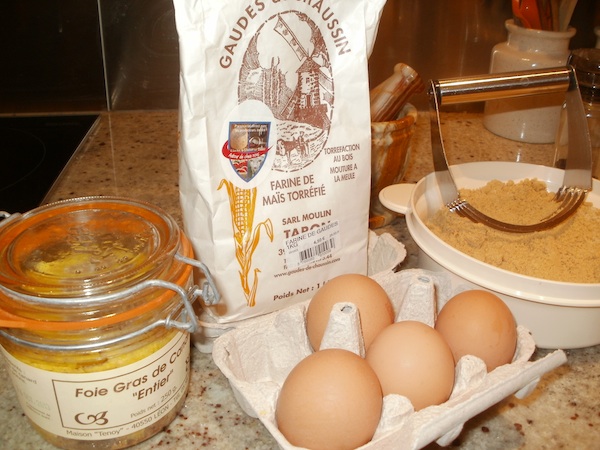 Many French chefs enjoy taking luxury products and combining them with humble, forgotten ingredients to create a fun surpise. An example is the return of the Jerusalum artchichoke in France, which had associations with wartime deprivation for many French. Now it's a chic accompaniment to lobster.
In France, winter holidays mean eating foie gras. Not the fake mousse stuff that smells like cat food, but authentic, Southwest France protected designation of origin, whole duck liver sterilized in a glass jar (see photo above). In French, foie gras entier de canard AOC du Sud Ouest de la France. That's the stuff. To serve, slice very thin and pass a basket of toasted whole wheat bread. Classically it's served with a sweet, late-harvest wine like Sauternes, but Alsace Gewurztraminer or dry Reisling work equally well.

I won't enter into a discussion about the cruelty of force-feeding ducks, particulary as I begin the third week of "assist feeding" my 12-yr old cat, stricken with acute asthma. I will express my opinions on the subject of animal welfare and partial vegetarianism in a subsequent post.

My topic today is what to do about the leftover golden fat? What a waste…some poor duck suffered (or not) and certainly endured force-feeding with a funnel in order to produce that fat, so I don't want to throw it away. Plus it tastes amazing. Would somone please explain to me why it's worse to eat duck fat than butter spread on toast? I often use the leftoverr fat for sauteeing in place of butter. One day I thought, why not use it in place of butter in other recipes? I've got this lovely recipe for homemade savoury cocktail cookies, a bit like the Legendes Gourmandes cookies.

I adapted this recipe from the back package of an interesting locavore ingredient I discovered at my Chalon Leclerc superrmarket, Farine de Gaudes, from the region of Bresse and Jura. The package I bought comes from the Taron family Mill in Chaussin, which has been continually grinding various grains since the middle ages. Corn came to Bresse in the 1600's; the first written record in 1611 at Flacey-en-Bresse. Gaudes is the name for porridge or cookies made from the very fine, toasted cornmeal. Henri Vincenot, the famous author of fiction set in turn of the century rural Burgundy, talks about Gaudes and gives a barely understandable recipe. Traditionally Gaudes was a filling winter staple for Bresse peasantry. You can also substitute regular cornmeal or polenta. If you're feeling daring, try to toast it gently in the oven or in a frying pan over medium heat, stirring constantly until just light brown and fragrant. Then grind it in a blender until it looks like fine sand. That will be as close as you can get if you're living in Chippewa Falls, Wisconsin.

After the holidays my sweet tooth is tuckered out, so salted cookies are more tempting. I experimented with how to remove the sugar and get a nice consistency. My resulting recipe is quick and easy with a food processor. Proceed as for old-fashioned "ice box cookies", forming the dough into a loaf, then chill, slice and bake. I tried using my cookie gun, and that also worked well. Sometimes I add a few tablespoons of fresh herbs like basil or rosemary. In the midst of January ice, aromatic pepper sounds better.

I've always loved pepper, and two years ago my daughter brought me back a pound of Cambodian Kompot pepper -- best and longest-lasting trip souvenir gift I've ever got. What a difference quality pepper can make for a recipe! There are so many different types and aromas of pepper are out there to experiment with. Last weekend I tasted wild Madagascar pepper with a spicy, licorice tang and pronounced bite. I could imagine that pepper as the crowning touch for a mushroom soup. I like to use Guerande sea salt which I buy in 1 kg bags. The crystals are big, and need to be ground. For this recipe, I place the salt and the peppercorns in a mortar and pestle, and crush them together. Salt 'n pepper seasoning!


























Salt 'n Pepper Savory Gaudes cookies with foie gras fat
Ingredients:
optional 2 Tbsp chopped fresh herbs (rosemary, thyme, basil etc)
1/4 tsp (1,3 ml) salt, preferably French sea salt from Guerande
1/4 tsp (1,3 ml) fragrant peppercorns, freshly ground
5 Tbsp (70 gr) foie gras fat, or in combination with butter and olive oil
1 cup (150 gr) flour
1/4 cup (50 gr) farine de gaudes (or toasted cornmeal)
1 egg
1/4 cup (60 ml) water (approximately)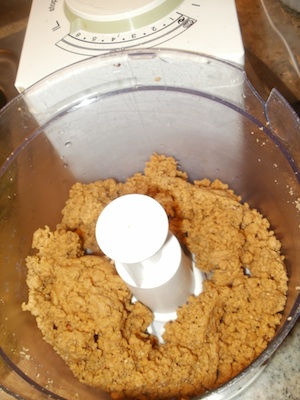 Instructions:
Place the flours, salt, pepper, optional herbs and fat in a food processor. Whirl on high speed until mixture resembles fine graham cracker crumbs.
Beat the egg with half the water, add to mixture and process on high. Now add dribbles of water until the mixture comes together in a ball of dough (see photo above). Depending on the humidity of your flours, you may need more or less water.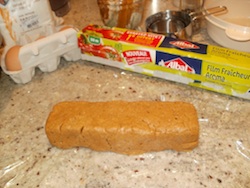 If you are using a cookie gun, fill immediately and bake--do not chill. Otherwise, gather the dough and form into a loaf, chill at least 30 minutes and slice in 1/4 inch thick slabs. You can also freeze at this point, and have ready for surprise guests.
Heat oven to 350 F / 180 C.
If desired, brush with milk or egg wash and sprinkle with herbs or seeds to decorate. Or use a cookie gun (see photo above).
Bake for 8-12 minutes. Lower time gives you a tender cookie, higher time gives you crispy texture.