Gourmet Parenthèse chez Jean-Michel Lorain in Joigny
By Brook Lowry Rivet on Wednesday, March 20 2013, 18:02 - Permalink
Begin the parentheses. The French quite often use the expression "une paranthèse" to describe a moment of digression, a pause in normal activity when something exciting or different happens in one's life. A spa retreat in Tahiti. Wine tasting in Nuits St George. Cooking classes at Cordon Bleu. Alien abduction. For my 50th birthday I was treated to a package at La Cote Saint Jacques, which in a way, was all of the above.
La Cote St. Jacques, a luxury hotel-restaurant in Joigny, is located in the north part of Burgundy and has been in the Lorain family for four generations. Jean-Michel Lorain joined his father Michel at the helm of this restaurant in 1983, the father-son duo maintaining the three Michelin star rating since 1986. La Cote Saint Jacques is one of the ten longest running top restaurants in France, the culinary equivalent of Lance Armstrong, without performance-enhancing drugs. Jean-Michel took on as sole captain in 1993, the year his father retired. Then in 2001 he undertook a huge renovation and moved the restaurant across the street overlooking the Yonne river. Michelin took away the third star, but Jean-Michel stoically held and won it back in 2004. He has a reputation for creative flair within a classic French repertoire. He walks the razor's edge of exoticism - just enough French tradition for vintage elegance but with a cosmopolitan touch.
A room with a lovely view, and a terrace overlooking landscaped gardens and the Yonne river. We donned swimsuits and the fluffy monogammed hotel bathrobes, and trekked down to the spa. 30 minutes of relaxing and restorative polynesian style massage, a cup of mint tea. Next the sauna, the hammam, the jacuzzi and finally the pool. Back to our room to dress for dinner, floating.
We declined cocktails in the cozy library area, and glided downstairs in an elevator entirely of glass and gleaming copper - like a giant Lacanche oven door. We had the chef's tasting menu, and were asked if we wanted to have a description of our courses in advance. We opted for suspense, but ordered the sommelier's selection of five glasses to accompany each of our five courses, thereby avoiding the conundrum of wine selection.
Classic. Two types of artisan butters from Maison Bordy of Saint Malo; sweet and seasoned with fleur de sel & Indonesien white pepper. A basket of homemade miniature breads included hazelnut and multigrain.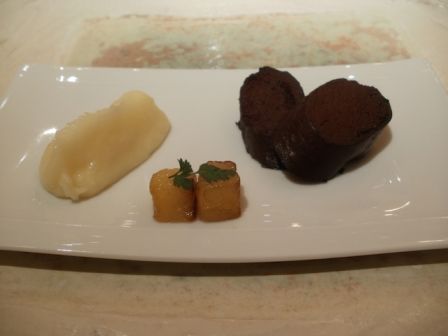 Traditional. A mise en bouche of sliced black pudding with caramelized apple cubes and a tiny cloud of mashed potatoes.
Enchanting. Condrieu Blanc Maison Pierre Gaillard 2010 and Duck foie gras harmonized to a pear theme: pear chutney, pear jelly, pear chips and toasted brioche with candied pears.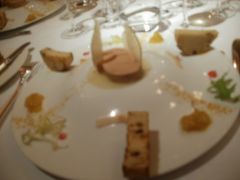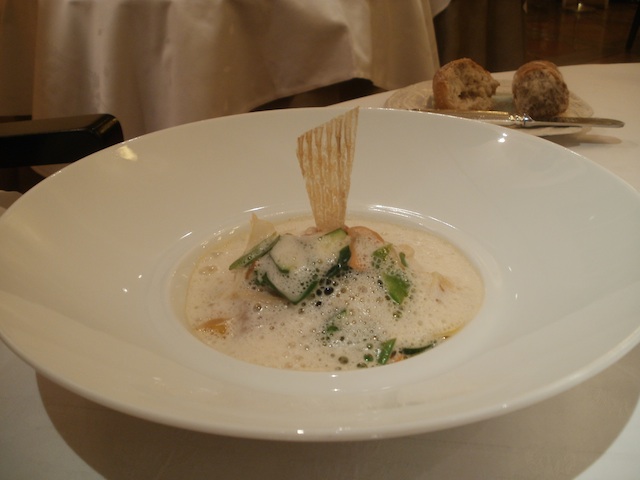 Astonishing.Beaune Clos Saint-Landry 1er Cru Monopole Bouchard Pere et Fils 2010 and slow cooked ray in a coconut - lime emulsion with wok vegetables, rice noodles and tomato marmalade.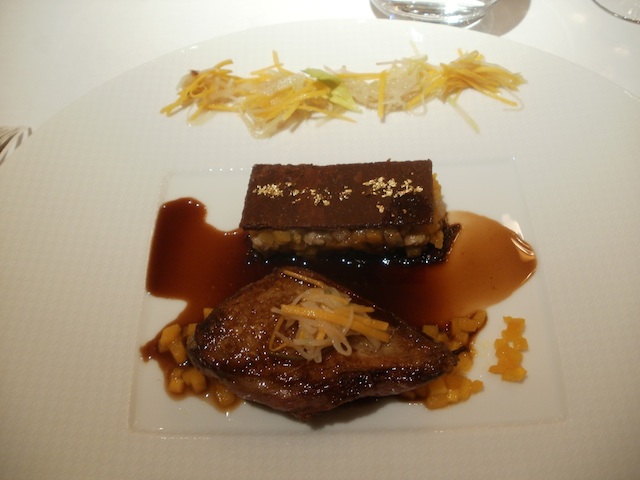 Masterful. Beaune Teurons 1er Cru Albert Morot 2009. Rare roasted pigeon breast with a cocoa mille-feulle filled with jerusalem artichoke and winter squash brunoise, chocolate infused sauce and a julienne of raw vegetables.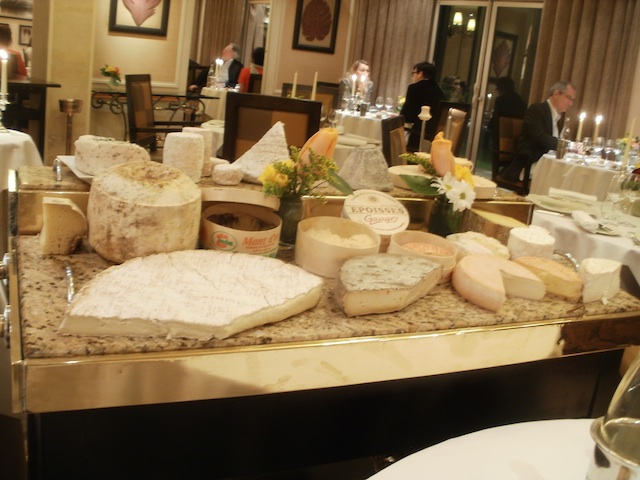 Stunning. The ginormous cheese trolley; I had fresh local goat, aged southwestern sheep cheese, 18 month old comté cheese and artisan Roquefort. Chateau Puech-Haut 2003 Saint-Drézéry.
Agile. Beaume de Venise 2011 Les Bernardins and pre-dessert teaser: mango ice cream crumble, avocado mousse on passion fruit jelly, vanilla creme brulé and a chocolate pot de creme on a wafer with pear marmalade and a pear chip.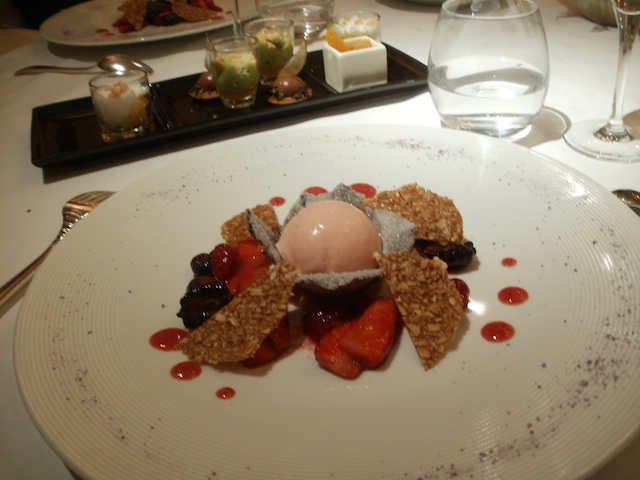 June sunshine, alien abduction. Delicate cup formed of large candied whole rose petals and almond brittle with a sphere of pale pink rose-infused ice cream. Candied rose petal crumbs and berries.
Mellow. Coffee in the library next to the fire, with a plate of hand-dipped ganache chocolates. My husband admired the selection of ancient Cognac bottles on display - one bottle said 1933.
End of parentheses.