The Fine French art of pressure canning
By Brook Lowry Rivet on Wednesday, June 19 2013, 14:03 - Permalink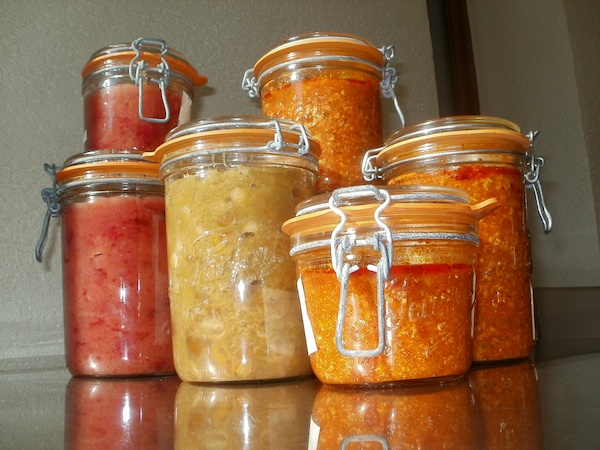 Summer brings a bumper crop of fruit and vegetables in your garden or at tempting prices in the farmer's market. Alas my freezer is full of hot pockets and chili poppers (just kidding). Let's harken back to simpler times and a much more environmentally friendly food storage technique: canning, a FRENCH invention.
Nicolas Appert, a candymaker and chef living in the Champagne region began experimenting in 1795 to develop a food preservation method in response to a competition launched by Napoleon, who was seeking better ways to feed his soldiers. He perfected a technique using glass jars sealed and heated in boiling water, and won the cash prize of 12,000 francs. By 1820, he was running a small company to market canned milk, peas and other canned goods. Later in his life, Appert worked on a rudimentary pressure cooker dedicated to canning in order to improve sterilization efficiency and safety.
Pressure cookers are also a FRENCH invention, dating prior to canning AND pasteurization. In 1679 Denis Papin perfected the first pressure cooker used for food, but it wasn't until the late 1920's they were made safe enough for home use. Even then, terrible accidents made them unreliable. After WWII in France, several companies began manufacturing different styles of pressure cookers, none of which were entirely dependable. SEB company in Dijon, Burgundy, "Société d'Emboutissage de Bourgogne" was an industrial sheet metal stamping factory equipped with ultra-modern German machinery. In 1953 SEB launched a "super cocotte" pressure cooker and pulverized the competition with its superior design and safety. SEB has emerged as the world leader in home small appliances and cookware, gobbling up Tefal, Moulinex, Calor, Rowenta, Krups, All-Clad and Lagostina. The world headquarters are now located in Lyon, and SEB is a household name in France.
Canning always makes me think of my grandmother's cellar under her circa 1930's bungalow back in New Auburn, Wisconsin. The basement smelled of clean dirt and damp, and was dimly lit with a single bulb close to the stairs. A few ground level glass blocks trickled light, but not enough to make the basement kid-friendly. It was a shadowy, frightening space. The ancient furnace hulked in one corner like a massive dragon and a crawlspace under the front porch made it seem as if the basement continued infinitely on into a dark realm where orcs, goblins and giant spiders dwelt.
A shelf near the staircase held a treasure chest stocked with bright jewels: purple beets, green beans, yellow pears and golden peaches, green apple-rhubarb sauce, scarlet strawberry jam and orange mashed pumpkin. A rainbow trove of garden goodness; a bastion against nuclear attack, war and economic upheaval. Canned goods in my Grandmother's basement represented both frugality and comfort.
Since the dark shadow of botulism hovers over every home canning project, a minimum amount of care is required . Avoiding botulism involves three points: 1) hygiene: cleanliness of jars, the environment and the food 2) Acidity: adding lemon/vinegar to create an acidic environment that clostridium botulinum bacteria do not like and 3) Temperature: use a pressure cooker if you can and follow instructions precisely and recommended cooking times.
Last week I made home-canned spaghetti sauce and fruit compotes for our Rollerblading club's GROL race marathon team. We will be camping in Brittany for the race, and there's something luxurious about opening home-canned food when you're on a camping trip. I would be comfortable camping with Alain Senderens and serving him my home-canned food. I'm not sure he'd be comfortable with my American mannerisms and taste for Linkin Park. Perhaps it would expand his horizons? We could listen to Daft Punk together and discuss the hallowed history of electronic music.
My SEB brand French pressure cooker has a fixed pressure valve operating about 80kPa or 16 pounds. Water boils at 120 degrees Celsius (248 F) at this pressure. The higher temperature guarantees complete destruction of pathogens, including the bacteria causing botulism. My SEB cooker manual recommends sterilizing jars of meat sauce for 60 minutes and fruit sauces for 20 minutes. The time is counted when the little steam valve starts to turn and whistle, signaling that the pressure has been reached. I have had this pressure cooker for twenty years now, and it's a faithful friend.
I recently invested in a meat grinder attachment for my Kenwood Major because ground turkey is unavailable in France. I have developed a borderline unhealthy attachment to this appliance. Every accessory I buy makes me feel vaguely uncomfortable, like I'm keeping a concubine. The meat grinder works wonderfully, much easier and faster than my old cast-iron hand-crank model.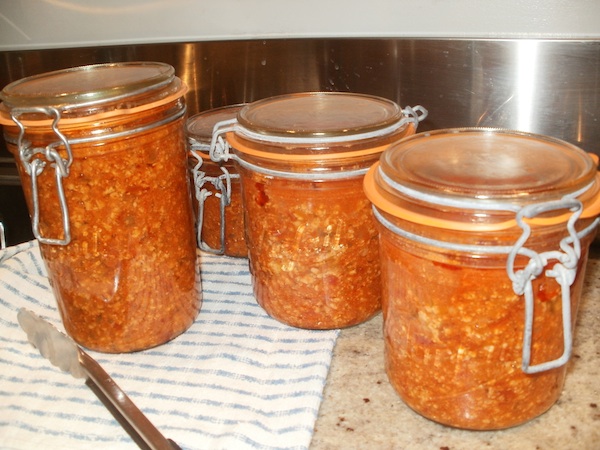 Marathon Turkey Bolognaise Sauce - serve over Barilla Bucatini number 9
Ingredients:
3 lbs turkey breast, ground fine
1/4 cup duck fat OR olive oil
4 medium onions, minced
6 carrots, minced
6 stalks of celery, minced
8 sun dried tomatoes packed in oil, minced
4 cloves fresh garlic
bay leaf
1 liter homemade poultry stock*
1 cup tomato paste
1 lb can chopped plum tomatoes
2 cups whole milk
salt and pepper
Instructions:
Warning: this takes 4 hours to make. If you're canning the sauce afterwards, it's an all-day project.
Mince the onions and garlic. Heat the oil in a large saucepan or pot. Add onions and garlic and cook over low heat for ten minutes until soft and translucent. Add minced carrots and celery and continue cooking slowly another 20 minutes or so. Add the ground turkey and cook, stirring to break up the chunks of meat.
Add the tomato paste, tomatoes, stock and bay leaf. Maintain at the simmer, covered and stiring occasionally for 3-4 hours. It should develop the consistency of thick soup. Add a 1/4 cup of whole milk to the sauce every hour. When it has simmered for at least 3 hours, taste and adjust for salt and pepper. Add milk if it's too thick, and more tomato paste if it's too thin.
*Since I ground my own turkey, I used all the leftover scraps and meat stuck to the grinder to make a homemade poultry stock. I added carrot, onion, parsely, thyme, celery and fennel leaves in the stock water to make it extra aromatic, as well as some mushroom trimmings. (I keep little bags of tidbits in the freezer for making stock).