Fluffy French mini-muffins with pumpkin - madeleines au potiron
By Brook Lowry Rivet on Monday, January 28 2013, 15:05 - Permalink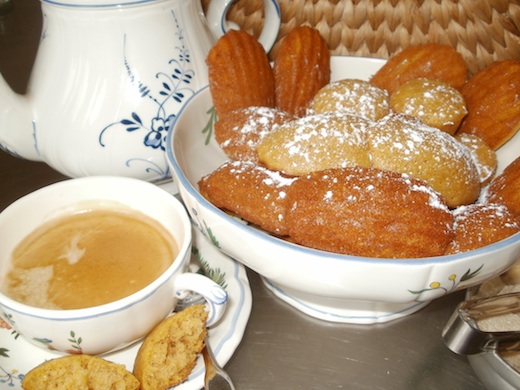 French writer Marcel Proust and a lemon-flavored madeleine cake are linked together forever in my mind. If, like me, you survived French Lit courses in college, you might have read Proust's "In Search of Lost Time" (a.k.a. Remeberance of Things Past). The delicate shell-shaped madeleine muffin is as important to the novel as the red embroidered "A" in Hawthorn's "Scarlet Letter." Proust's madeleine is a sensory triggor for his autobiographical hero Swann, who dips his madeleine in a cup of linden-flower tea and then bites into the sodden cake. An explosion of lemon, butter, sugar and herbal flavors triggors an involuntary memory which in turn lets loose a stream of prose that flows into Proust's entire novel. Because of one little tea-dunked cake, Swann recalls previously suppressed memories about his past life in 19th century upper-class France and scores of French Lit students like me had to write essays on the nature of memory. What a hefty weight for such a delicate, fluffy little muffin to carry!
Madeleines, like any other butter cake, are best eaten right out of the oven. They are surprisingly easy to make provided you have an electric mixer. If you don't have the pretty madeleine tins; go ahead and use mini-muffin pans; the taste is just as good. Madeleines batter is made like a genoise: the whole eggs are beaten on high speed with the sugar for five minutes to make a fluffy, pale yellow meringue-like emulsion packed with tiny air bubbles. The flour and butter are next folded in with a spatula so the air bubbles remain suspended in the mixture. This technique makes the cakes extremely fluffy and light, yet tender.
In my version, I've taken out some of the butter and added pumpkin purée so the madeleines are not only healthier and lighter, but stay fresh and moist for several days. You can briefly warm them in the microwave a few seconds before serving. For a festive touch, decorate with a sprinkle of confectioner's (icing) sugar. The pumpkin, spices and orange zest go equally well with tea or coffee.
I dare you to dunk your madeleine, bite in with your eyes closed, and concentrate… what memory pops up? Here's mine: I'm sitting at a window table on the State Street Steep 'n Brew in Madison, Wisconsin. I'm studying for a quiz in chemistry, charging up my brain with a big mug of hazelnut coffee and an apple-walnut muffin. Share your memory in the comments below please.

Madeleines au potiron - French pumpkin mini-muffins
Ingredients:
1 cup granulated sugar
4 large eggs
1 cup pumpkin puree
1 cup flour
1/2 cup whole wheat flour
1 1/2 tsp baking powder
1/2 tsp cinnamon
1/4 tsp allspice
1/4 tsp ginger
1/4 tsp ground cloves
1 1/2 tsp salt
1/2 cup (113 gr) butter, melted and cooled
grated zest of one orange

Instructions:
1/ place eggs and sugar in a mixing bowl and beat on high speed with an electric mixer for 5 minutes.
2/ heat oven to 325 F or 175 C
3/ In another bowl, whisk together the flours, baking powder, salt and spices until completely mixed.
4/ pour the pumpkin into the egg mixture, and stir gently ten times with a spatula, with a folding motion.
5/ pour half the flour mixture on top and continue folding another 15-20 times. Add the rest of the flour and fold again until nearly all mixed.
6/ add the melted butter and the orange zest, and continue folding until thoroughly mixed.
7/ use two teaspoons to fill greased mini-muffin cups or madeleine tin molds with a heaping TBSP of batter. (batter should come to top of mini muffin cup)
8/ bake 8-10 minutes, until just set. Remove immediately from tin and cool on a rack. Sprinkle with a little powdered sugar if desired.