Spanish cáscaras / regañas Olive Oil Crackers Against Sadness
By Brook Lowry Rivet on Wednesday, February 27 2013, 17:49 - Permalink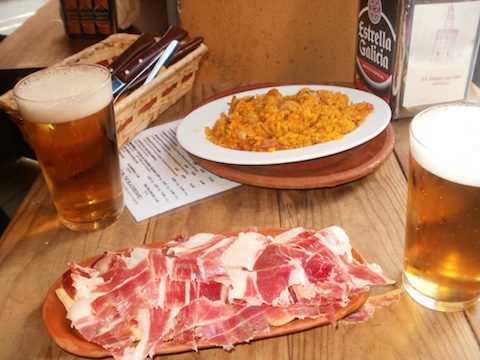 I haven't posted lately because 1) my cat died 2) I travelled to Andalusia, Spain and visited awe-inspiring man-made monuments that made me feel insignificant 3) I've purchased a house here in Burgundy which involves a daunting year-long renovation project and 4) my best friend was on vacation so I took care of her five horses while staying at her house, both a pleasure and a heavy responsibility.
The combination of these things happening in short succession confused me. It feels as if I've been pushed through a wormhole on Stargate and forced into somebody else's life. Of maybe my own life in some alternate universe. Sometimes existance just ambles along slowly, and then suddenly it starts up galloping out of control like a crazy carnival ride.
I was a Tapas virgin before my trip to Spain. I'd heard about Tapas, but never tasted them or even been to fake tapas bars outside of Spain. I had no idea how alluring and addictive tapas become, sneaking under your skin like a bad serial television show or sushi. After three evenings of beer with paella (seafood rice), jamon iberica (cured iberian ham) and these amazing crunchy olive oil and sesame crackers, I never wanted to stop having Tapas instead of dinner. I especially liked the crackers. One of our waiters called them regañas, but they were slightly different wherever we went. The best crackers were in Seville, and they were labeled cáscaras (which is spanish for peel or shell). Here is the photo of the (empty) package.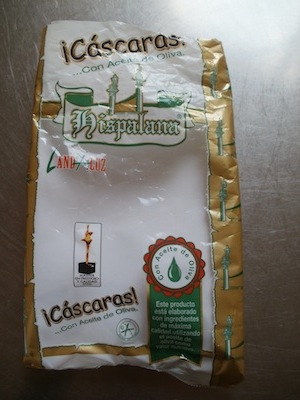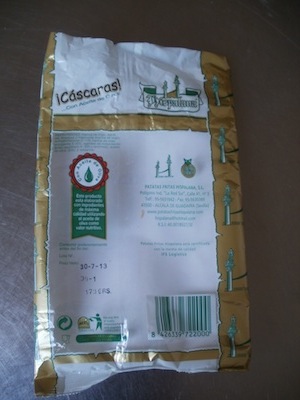 I also bought a package of similar crackers labeled "regañas" but those are not as light and crispy as the cáscaras - puffy, like little pillows.. I wish I had brought back more packages…I can't find them here in France. I can buy grisini from Italy at my local French grocery store, but I don't see cáscaras or regañas anywhere. Ay! More sadness.
I'm of the old school "push yourself forward when you're feeling gloomy" philosophy. When life gets strange and sad, I head for my kitchen and bake as therapy. As long as I don't eat everything it's okay, right? The preparation and subsequent distribution of the food forces me into action and interaction. It gets me doing stuff, talking to people, and pretty soon I feel better. When you feel slightly better, you can face what is making you sad. Reality doesn't go away, but it looks less massive and immoveable. Instead of the abominable snowman, you face Chewbacca. More like a swamp you can wade through, an ocean you can cross.
I decided to try and make my own cáscaras or regañas. I couldn't find a recipe anywhere on the internet, so I adapted a recipe I have for homemade saltine crackers with flour, olive oil, salt and sesame paste instead of salad oil. Baking homemade tortillas or lefse, both of which I love to make is all about effort. You need to work on your skill and be patient to roll out the dough really thin. It's like rollerblading backwards. You can't just have somebody explain the recipe. You have to do it and practice. You can make these crackers ahead of time for parties and store them in an airtight tin. Just heat them in an oven 2 minutes before serving if they've lost their crispiness.
Brook's Tapas Crackers
Ingredients
2 cup all purpose flour
1 cup whole wheat pastry flour
1 tsp salt
1 tsp baking powder
1 1/2 cup water
1/4 cup olive oil
1/4 cup tahini
1/4 cup olive oil for brushing
flake salt, sesame seeds, poppy seeds or za'atar* for sprinkling (optional)

Instructions
In a stand mixer or bowl, mix salt, flours and baking powder. Make a well in center and add oil and tahini -- mix with a fork until blended and add and water. Knead with a dough hook for ten minutes until smooth--or knead by hand. Cover and let rest for at least 30 minutes. You can also wrap and chill overnight.
Heat oven to 425 F or 205 C.
Divide the dough into walnut sized pieces. Make a 'snake' of each piece by rolling on your hands. With a rolling pin, flatten each 'snake' out into a long cracker shaped piece. Try to gently stretch the dough to get it really thin (see through) and slap it on the baking pan. Brush each piece with oil and sprinkle with salt, seeds or herbs if desired. (push the seeds into the dough with the rolling pin before brushing with oil.)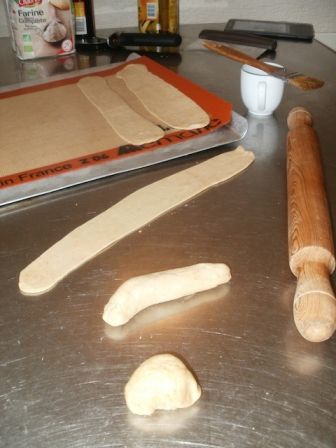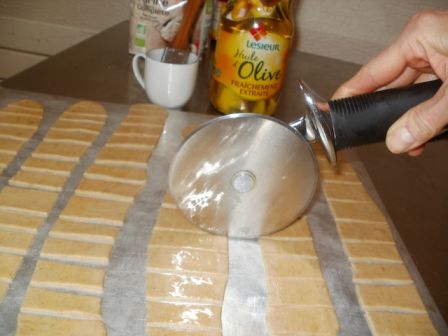 With a pizza cutter, slice each long cracker into 8 or 10 little pieces.
Bake in hot oven for 7 to 9 minutes until brown and crisp.
*My version of za'atar is 1 part sea salt, 1 part cumin seeds, 1 part caraway seeds and 1 part fennel seeds, ground in mortar and pestle until fine.