Fennel with Tuna, Capers, Black Olives and Oranges
By Brook Lowry Rivet on Wednesday, April 10 2013, 15:36 - Permalink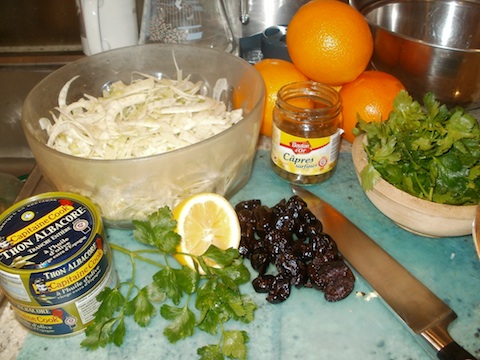 Here's a quick healthy dinner with fennel and tuna that is tasty and different. TWO versions, because Fennel tastes different when it's cooked. If you don't care for the bitter taste and licorice flavor, you may prefer raw, shaved fennel which tastes sweeter.
Ingredients (serves 2)
2 oranges
1 Tbsp lemon juice
1 Tbsp balsamic vinegar
1 can of olive oil packed tuna
2 fennel bulbs
2 Tbsp capers
1/4 cup greek style black olives, pitted and chopped fine
2 Tbsp chopped fresh parsley
1 tsp grated zest of lemon
salt and pepper to taste
Cooked Fennel version: Clean and trim the fennel bulbs and cut in quarters lengthwise. Place in a saucepan with 1/2 inch of water and bring to a simmer. Check while cooking that there is a tiny amount of liquid, ideally all the liquid should evaporate by the end of cooking time. Simmer for 20 minutes or until just fork-tender…uncover and boil for a few more minutes to evaporate any liquid. Allow to cool to room temperature.
Raw Fennel version: Clean and trim the fennel bulbs and shave with a mandoline, starting on the green end. Toss with the juice of one lemon, sprinkle with salt and pepper and a drizzle over some extra virgin olive oil … cover and let marinate for at least an hour, stirring once or twice.
While the fennel is cooking / marinating, peel the oranges and cut into segments (video instruction here).
Drain the tuna oil and juices into a smal bowl and mix with the lemon juice, capers, parsley and chopped black olives.
Place the fennel on a pretty dish and arrange chunks of tuna and orange segments around it. Sprinke evenly with lemon zest (or grate the zest directly over the salad) Scatter the topping over and serve with rice or salad greens.
Here is a photo of the cooked version: